AK 150 Coolpad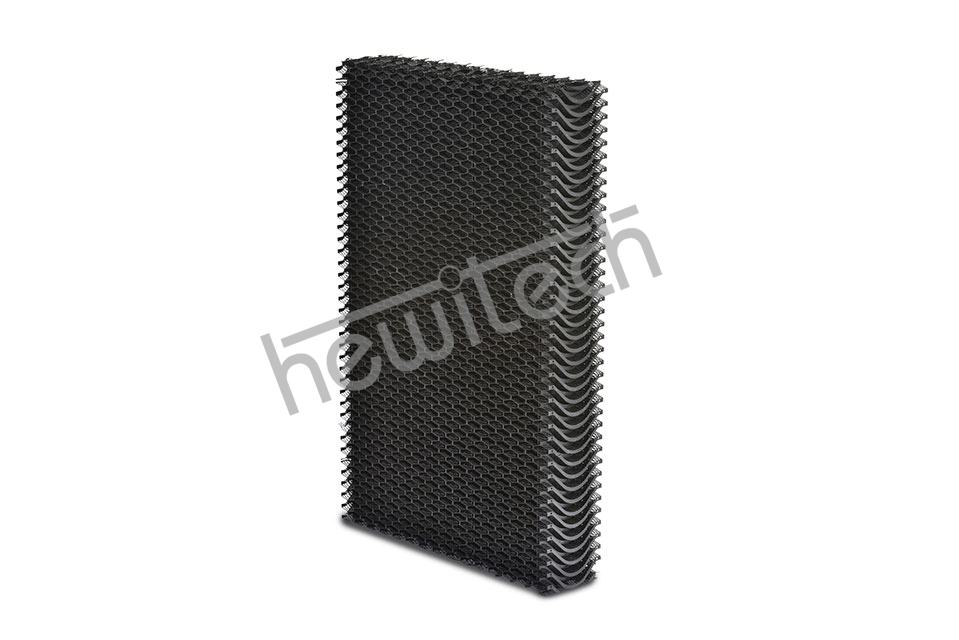 | | |
| --- | --- |
| Standard dimensions: | 2000 x 600 x 150 (Length Width Height) Different dimensions are available upon request |
| Channel opening: | 20 mm |
| Effective surface area: | < 400 m²/m³ |
| Channel structure: | Wave form |
| Material: | Polypropylen (PP) |
| Operating temperatures: | < 75° C - constant - , max 80° C - short term - (measured water discharge at the distribution pipe ) |
| Free volume: | > 97 % |
---
Features
High-performance trickle fill installations are characterised by their high mechanical strength.
This strength is determined by two special factors, on the one hand by the mechanical and extremely stable connection technology and on the other hand by the specially structured fill design.
Particular attention is paid to the original Coolpad AK150 because of environmental compatibility (solvent-free), simple and very stable processing (> 3000 pressed contacted points/m², >650 welding points per m² + 3 integrated full flat sheets per modules width of 600 mm) through our own welding technology as well as in a framed upright installation position. In addition, these fittings can be cleaned after use with a high-pressure cleaner and therefore reusable.
Due to the optimised fill design, these Coolpad fills can be used for very clean and slightly contaminated water qualities.
Please contact us for the right type selection
---
Features
High flexibility according to installation situation
Variable dimensions and different strength classes


Cleaning polluted drains, very little erosion
Increased service life and low replacement requirements


High mechanical stability and high load bearing capacity
Stable connection points and wall strengths ensure accessibility


High durability
Use of age-resistant, effective materials